Villes en Développement no. 106: Gender Equality and Women's Empowerment in Cities (June 2017)
14/06/2017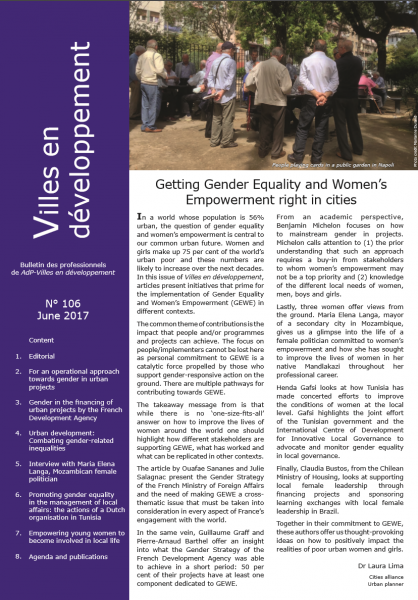 The June 2017 issue of Villes en Développement focuses on Gender Equality and Women's Empowerment in Cities. Cities Alliance Urban Specialist Dr. Laura Lima worked as a guest editor for the publication and contributed an editorial.
The issue features contributions by academics, practitioners, national and local politicians from a range of countries:
Dr Benjamin Michelon – For an operational Approach Towards Gender in Urban Projects
Guillaume Graff & Pierre-Arnaud Barthel – Gender in the Financing of Urban Projects by the French Development Agency
Julie Salagnac-Diop and O. Sananes – Urban Development: Combating Gender-Related Inequalites
Interview with Mayor Maria Helena Langa (Mozambique)
Henda Gafsi – Promoting Gender Equality in the management of Local Affairs in Tunisia
Claudia Bustos (Ministry of Housing, Chile) –  Empowering Women to become involved in local life
The issue is available in French and English.
 
Villes en Développement is a publication funded by the French Development Agency (AFD).