Fostering a Culture of Dialogue on Urban Development in Uganda
Two years into its implementation, the Transforming the Settlements of the Urban Poor in Uganda (TSUPU) programme has fostered strong partnerships and a culture of dialogue that is underpinning the country's urban development efforts.
[25 June 2012] -- In 2010, the Government of Uganda launched the Transforming the Settlements of the Urban Poor in Uganda (TSUPU) programme in order to proactively manage the country's rapid urbanisation and improve living conditions for the urban poor.  
Two years into its implementation, TSUPU has fostered strong partnerships and a culture of dialogue that is underpinning the country's urban development efforts. The national and local governments are actively working with communities, and there is strong ownership all around. 
The Cities Alliance is supporting TSUPU through its Country Programme framework, an ambitious approach that seeks to align development efforts at the national, local and community levels, with an emphasis on dialogue and inclusive participation.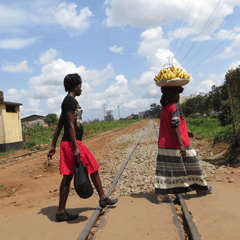 One of the key components of TSUPU is to improve living conditions for the urban poor. Photo: Susanna Henderson/Cities Alliance
In order to showcase the strength of the Country Programme that has developed in Uganda, the Cities Alliance held its 2012 Executive Committee meetings in Kampala June 6 – 10. The meetings were co-hosted with three other programmes that are active in Uganda: the Global Partnership on Output-Based Aid (GPOBA), the Public Private Infrastructure Advisory Facility (PPIAF), and the Private Infrastructure Development Group (PIDG). (Read a PPIAF article on the meetings.) 
"Fight Slums, Not Slum Dwellers" 
Minister of Land, Housing and Urban Development Daudi Migereko (right) with SDI President Jockin Arputham  (left) opening a sanitation unit in Rubaga built as part of TSUPU. Photo: Cities Alliance
In early June, the national government, mayors and community activists held events highlighting the activities they have undertaken as part of TSUPU, attended by Cities Alliance Executive Committee members. 
These included a workshop hosted by the Ministry of Land, Housing and Urban Development in Kampala June 4; a Forum on secondary cities hosted by the Mayor of Jinja and the Jinja Municipal Council on June 5; and site visits to community projects. 
It was clear from all these activities that the national government recognises both local governments and communities as true partners as it implements its vision for long-term urban development in Uganda. 
"It is about fighting slums and not slum dwellers and fighting poverty instead of fighting the poor," said Minister of Land, Housing and Urban Development Daudi Migereko in remarks at the June 4 workshop. 
The presence of Minister of Finance, Planning and Economic Development Maria Kiwanuka at the workshop also underscored the government's willingness to engage in dialogue. She gave the opening remarks, clearly demonstrating her interest in local government issues and the importance of inclusive development. 
"Our increasing population and our rate of urbanisation means that we have to do even more, not just to stay in the same place but to actively ensure that all of our citizens, especially the poorest and most vulnerable, benefit from growth and development," Minister Kiwanuka said. 
The depth of the partnerships that have developed was further apparent during a Forum on secondary cities held in Jinja. Mayors from all five TSUPU towns – Arua, Jinja, Mbale, Mbarara and Kabale – had the opportunity to speak directly with the national government about challenges they are facing in their municipalities. The event was attended by Mr. Samuel Mabala, Commissioner of Urban Transport, Uganda Ministry of Land, Housing and Urban Development. 
The Deputy Mayor of Arua, Kalsum Abdu, spoke frankly and eloquently on the problems of managing a fast-growing secondary city. She elaborated on a number of issues, including the challenge of city planning and providing sanitation for a mobile population with severe resource constraints. 
Mobilising and empowering communities
A unique aspect of TSUPU is that while policy efforts are moving forward at the national level and dialogue is underway in the municipalities, communities are being mobilised and working more closely with their local governments.
For example, in Jinja the local slum dweller federation was able to negotiate an arrangement in which the Jinja municipality provided land for a new sanitation unit in Rubaga market. The federation then mobilised its savings and labour to secure a loan for the remaining cost of building the unit, which services the market's 1,000 residents. The Minister of Land, Housing and Urban Development, Daudi Migereko, attended the June 6 launch of the Rubaga sanitation facility as part of site visits undertaken during the Cities Alliance annual meetings. 
These small community-funded projects – such as paving, sanitation or the construction of a community centre – are an important part of TSUPU. Funded by community development funds, they engage residents, help them see projects developing and build enthusiasm for the initiative. 
Women making and selling items as part of a TSUPU income generation activity in Masese, Jinja.  Photo: Cities Alliance
Another type of community project was highlighted in a site visit to Masese June 5. Women who were participating in income-generation activities through their local saving group displayed items they made and sold, such as brightly colored beads made from old magazines and posters, baskets made of local plant materials, candles, paper bags, fruits and vegetables, poultry, and clothes. 
One of the most exciting TSUPU activities highlighted during the annual meetings was the Social Tenure Domain Model (STDM), an enumeration tool developed by UN-Habitat in partnership with the Global Land Tool Network. STDM was presented by the slum dweller federation of Mbale, which has piloted the tool with the support of Shack/Slum Dwellers International (SDI) and UN-Habitat/GLTN. 
STDM is innovative in several ways: instead of relating a person's name and address to land, the STDM relates personal identifiers, such as fingerprints, to a coordinate point inside a plot of land. It is also based on a global standard, so that the data generated by the communities through STDM will be accepted by local and national governments. Residents can use the number they receive through the STDM to register for a cellphone, for example. 
So far, the Mbale pilot has generated considerable interest and will be presented at the World Urban Forum in Naples later this year.
Initial progress of TSUPU includes:
  --  Positive dialogue at all levels. Both national and municipal forums have been launched, and an intensive dialogue focused on settlement issues is in place.
  --  Mobilised, engaged communities. Local slum dweller federations have been established in all five towns, and settlement profiles completed for each municipality. Community organisations now have offices in the municipal governments.
  --  The Government of Uganda has received a USD 150 million loan from the World Bank to revitalise 14 municipalities. These include five municipalities that are participating in the TSUPU programme.
  --  Innovating enumeration. The Social Tenure Domain Model (STDM), a land rights recording tool that makes it easier for slum dwellers to collect accurate data on their own communities, has been piloted in Mbale.
  --  Training the next generation of urban planners. Makerere University is actively engaged in developing planning processes with stakeholders. In addition, urban planning students at the University are participating in internships with SDI/Actogether.
25/06/2012