Better City, Better Life: Launch of World Urban Campaign at WUF 5
A highlight of WUF5 was the launch of the World Urban Campaign, a major new global advocacy initiative to form a network of partners from public, private and social sectors working together to share information and best practices to achieve resilient, sustainable urban communities worldwide.
A highlight of the closing ceremonies of the highly successful fifth World Urban Forum was the launch of the World Urban Campaign, a major new initiative nurtured by UN-HABITAT but driven by Cities Alliance and a host of other partners.
The World Urban Campaign (WUC) is a global advocacy to form a network of partners from public, private and social sectors working together to share information and best practices to achieve resilient, sustainable urban communities worldwide. 
Half of the world's population now lives in cities and projections are that this figure will increase to two thirds by 2030. The shift to urban dominance is irreversible. If current projections are anything to go by most city governments will still be ill-equipped to meet the needs of the urban future. An estimated two billion people will reside in sub-standard housing in informal settlements in the developing cities in Africa, Asia and Latin America. Most people living in these cities will lack adequate shelter and basic services; few will be recognised as urban citizens and many will end up working in the informal economy. Fewer still will realise their full productive potential. 
Thus far, the phenomenon of urbanisation, its associated challenges as well as opportunities are relatively unknowns as global public goods. Major motion pictures such as The City of God (Latin America), The Constant Gardener (Africa) and Slum Dog Millionaire (Asia) provide insights into this phenomenon but the usual glitz associated with filmmaking tends to dissipate focus away from the reality of the issues around urbanisation, both the enormity of the challenges mentioned above as well as the positive stories of change. Tens of thousands of cities and towns are each in their own way grappling with how to manage rapid urban growth, be it in the form of urban sprawl, urban decay or slum formation. Some are achieving success against great odds. National governments, also in relative isolation, are beginning to promote national policies to make municipal and local action possible. Hundreds, perhaps thousands of organisations, are setting precedents, developing tools and offering policy options to meet the urban challenge. Yet these actions are disparate. Their work is not recognised or assessed and the collective impact of their actions is not realised.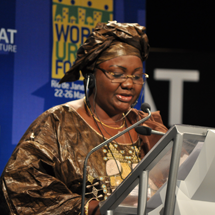 With the slogan, "Building Partnerships (for a) Better City, Better Life"—WUC aims to reverse this awareness and action gap. It provides a necessary environment for collaborative effort at sustainable urbanisation by all concerned actors in the urban world, from you and I to organisations of the urban poor, associations of local authorities, business forums, youth associations, media outlets, professional associations, women's groups, Parliamentarians, ministerial conferences, and inter-governmental bodies. 
According to Nicholas You, Senior Advisor at UN-HABITAT who currently chairs the World Urban Campaign Steering Committee, WUC focuses on "providing governments and partner networks with an advocacy instrument to articulate a shared vision for a better urban future and to advance the urban agenda within their respective constituencies.  The Campaign seeks to position sustainable urbanisation as a priority issue of the international community and as a national policy priority for individual member States. The success of the Campaign will be measured by more sustainable urban policies at the national level and increased investment and capital flows in support of those policies." 
However, the "Campaign is not for professionals only. It is a neighbourhood campaign, bridging the urban divide," according to Mrs. Anna Tibaijuka, UN Under-Secretary General and Executive Director of UN-HABITAT. "The task before us is huge and urgent; we cannot turn around our cities and towns without partners," she added. 
During the closing ceremonies a number of partners representing various umbrella organisations in the urban community stepped up to the plate to immediately declare their support for the campaign. Speaking on behalf of Global Parliamentarians on Habitat (GPH) for example, Peter Goetz declared the support of all member parliamentarians for the campaign, an important endorsement given the significance of its membership to the legislative or urban policy reforms necessary for sustainable impact at the governmental level.  GPH is an international organisation of parliamentarians from 177 countries founded in 1987 in Yokohama, Japan, with the support of UN-HABITAT. For more on GPH click here: www.bundestag.de/htdocs_e/bundestag/international/gph/index.html.
Gunde Odgaard of BAT Kartel from Denmark representing the Building and Woodworkers International (BWI) also declared support for the campaign. BWI is a global union federation of 318 trade unions representing around 12 million members Building, Building Materials, Wood, Forestry and Allied sectors in 130 countries with headquarters in Geneva, Switzerland. It pledged support in the  collection of documentation of urban policies and laws. For more on BWI click here: www.bwint.org.
Christian Kornevall representing the World Business Council for Sustainable Development (WBCSD) highlighted the role of the private sector in urban development. The private sector "cannot succeed in cities that are failing." The World Business Council for Sustainable Development (WBCSD)—www.wbcsd.org—is a CEO-led, global association of some 200 companies dealing exclusively with business and sustainable development. The Council provides a platform for companies to explore sustainable development, share knowledge, experiences and best practices, and to advocate business positions on these issues in a variety of forums, working with governments, non-governmental and intergovernmental organisations.
Ms Jan Petersen of the Huairou Commission spoke on behalf of all grassroots women working in representing women working in human settlements. She asserted the Huairou Commission will help communicate key messages of campaign and will help identify champions to help move the campaign forward. help set up champions. The Huairou Commission—www.huairou.org—is a global coalition of networks, institutions and individual professionals that links grassroots women's community development organisations to partners.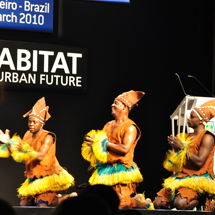 Representing the media, a necessary partner to the advocacy campaign Mr. Neal Pierce said his organisation, Citiscope will focus on coverage of stories of hope and change from cities around the world. All too often news from cities has always been of gangland murders, of disasters and of scandals. This emphasis on the negative often beclouds the positive stories of change and hope emanating from cities. Citiscope is positioned as a global news service designed to turn around that negativity into more positive portrayals of news from cities. 
Partners all affixed their signatures to a Compact for the campaign. The compact is open invitation to all to commit to the campaign for sustainable urbanisation.
Two major building blocks of the campaign were also launched during WUF 5. The first is the 100 Cities Initiative: www.100citiesinitiative.org. The aim of the initiative is to share innovative urban practices by encouraging and mobilising people, communities, municipal officials, service providers and political leaders of any city to tell their story about how they are contributing to a better and more sustainable city.
The initiative will highlight and celebrate innovations that make cities more sustainable and disseminate these worldwide. It will capture and share stories of change in cities of all shapes and sizes and provide a space to what people are actually doing to improve city life. Currently in its 12 to 18 month experimental phase which will culminate in a 100 cities Summit in 2011, the initiative will be open to broader participation, inviting people to submit their stories using a complete range of media tools to share their "living practices." 
The major characteristics of living practices can briefly be summarised as follows:
  --  Looks forward at current and future challenges;
  --  Involves multiple actors and the community in a spirit of sharing and learning;
  --  Focuses on problem solving, especially for yet to be resolved issues and challenges;
  --  Uses a story telling format to facilitate periodic updates by multiple actors using multiple media;
  --  Employs tools and metrics for benchmarking and assessing process and progress;
  --  Recognises and rewards sharing and learning; and
  --  Supports story telling in local languages and relies on a champion to extract lessons learned.
The second building block is the World Urban Campaign Video, launched by Cemil Giray Alyanak, CEO of the Mondofragilis Group, consultants to the World Urban Campaign. The key message of the video is one of partnerships, of moving forward together to find opportunities and solutions within the rapid urbanisation that our planet is undergoing. It stars Yann Hnautra, one of the founders of Yamakasi, an urban parkour movement whose practitioners train to jump and climb objects in their path. The seven minute clip features original messaggio studios footage filmed in cities, communities and urban spaces across the globe (India, Tanzania, Singapore, Washington DC, New York, Lyon, Geneva, Madrid, Bangkok, São Paulo). Directed by Raphaël Marino, head of audio-visual at messaggio studios, the film was conceived with the input and influence of Giray and UN-Habitat's self-proclaimed "granddad of hip-hop" Nicholas You. The video is currently posted on the CA homepage at www.citiesalliance.org.
Cities Alliance provided preliminary funding support for the launch of the WUC.
05/04/2010