UN warns of rising tensions as refugees flood into cities
By Andrew Buncombe, Asia Correspondent
The Independent
8 December 2009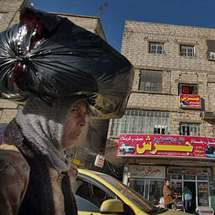 From the slums of Kabul to the shanties of Damascus, more than half of the world's refugees are now scraping by on tiny strips of land in increasingly overcrowded, overburdened cities.
Rather than living in rows of neatly pegged white canvas UN tents set up in fields as the public might imagine it, aid officials have revealed that more than 50 percent of the planet's 10.5 million refugees are now battling to get by in urban areas. Cities also contain more than 20 million internal refugees and displaced people.
"We need to abandon the outmoded image that most refugees live in sprawling camps of tents," said Antonio Guterres, the UN High Commissioner for Refugees. "What we are witnessing is that more and more refugees live in cities. The rights of refugees travel with them wherever they flee and they are entitled to the same protection and services in cities and towns that they have traditionally received in camps."
Officials say that the shift of refugees towards cities mirrors a general phenomenon that has accelerated since the 1950s. With pressure on rural economies ever more pressing, increasing numbers of people - especially in the developing world - are moving into urban areas in pursuit of livelihoods and better opportunities.
Indeed, figures suggest that in the last 60 years alone, the number of city-dwellers has increased by 400 percent, leaping from 730 million people in 1950 to more than 3.3 billion today. Officials say that the developing world will soon be home to 80 per cent of all of those who live in urban areas - presenting countries such as India, China and Pakistan with huge challenges for providing sufficient infrastructure and services in the decades ahead.
Among the cities identified by the UN High Commissioner for Refugees as having particularly swelled because of refugees are Kabul, Bogota, Damascus, Amman and Abidjan. According to recent estimates, the capital of Afghanistan has grown sevenfold since 2001 when the US led an invasion to oust the Taliban and crush al-Qa'ida militants. Officials say that many of the new arrivals are former refugees who have returned from Iran or Pakistan, or else internally displaced people who are escaping violence elsewhere in the country.
Bogota in Colombia and Abidjan in Ivory Coast have both absorbed hundreds of thousands of victims of armed conflict, while in the Middle East, the capitals of Syria and Jordan are a refuge for hundreds of thousands of Iraqis who have fled their country as a result of the violence and insecurity following the US-led invasion of 2003.
In Pakistan meanwhile, internally displaced people are no better off. An operation earlier this year against Taliban militants who had taken control of the Swat Valley, once a popular tourist area, saw more than two million people forced from their homes. The majority moved into rented properties in the cities or else stayed with relatives or friends who had homes there. While largely out of sight, this put tremendous pressure on those host families.
Speaking ahead of a UNHCR summit on refugees, Mr Guterres said that elsewhere hundreds of thousands of refugees were forced to live in overcrowded slums with limited access to health and social services. Very few are able to enter formal employment and struggle to make a living in the informal sectors of the economy where they are subject to exploitation.
"Refugees in cities will typically live alongside nationals and migrants who have migrated to urban areas in pursuit of higher living standards," he said. "These different groups all contend with difficult day-to-day circumstances in communities that will lack even the most basic welfare support."
09/12/2009