International relations to benefit Cape Town community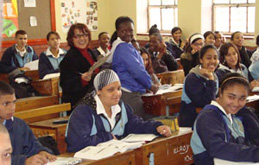 6 August 2009
The City of Cape Town is forging a partnership with the municipality of Arcueil, France to work together on joint projects that will deliver socioeconomic benefits for residents in Athlone.
The relationship between the two cities, which officially began in 2006 with a visit by the Mayor of Arcueil, will give rise to projects that fight poverty and other social challenges via a decentralised cooperation arrangement.
A delegation from Arcueil recently visited Cape Town to sign an official partnership agreement to this effect. Women and youth have been targeted as vulnerable groups most in need of support, and will receive grant funding for capacity building projects in the Athlone area.
The partnership will also address skill shortages via training programmes and boost sports, culture and education in Athlone. Selected community leaders in these fields will receive training in France which they will use to improve their communities. The French are also in the process of identifying a community project which they will fund in 2010. This will not necessarily be linked with the 2010 FIFA World CupTM.
The relationship between the two municipalities has its origins in the life of Dulcie September, a prominent South African liberation struggle activist who was born in Athlone and spent part of her life in Arcueil, where she worked as Chief Representative of the ANC to France.
The Arcueil municipality has instigated the partnership with the City as a symbolic way of honouring her memory via the creation of practical projects between the two local authorities.
September, who was assassinated in Paris in 1988, has been honoured by the erection of a plaque in Arcueil. Dulcie September Avenue and a secondary school, the Dulcie September College have been named after her, and her memory is celebrated annually.
The first visit by representatives of Arcueil in 2006 culminated in the signing of a declaration of intent by the Mayors of both municipalities. This framework for cooperation around specific areas of mutual interest is currently evolving into a formal partnership agreement, which is expected to be ready for signature soon.
21/09/2009