Annual Report 2013: Highlights and Results from an Unusual Year
To say 2013 was an eventful – and highly unusual – year for the Cities Alliance would be an understatement, with our relocation to Brussels and move to UNOPS as trustee.
To say 2013 was an eventful – and highly unusual – year for the Cities Alliance would be an understatement, with our relocation to Brussels and move to UNOPS as trustee.
This year's Annual Report is also unusual – it covers a period of 18 months, from 1 July 2012 through 31 December 2013 as we move away from the World Bank's fiscal year reporting and adopt UNOPS' calendar year reporting.
Here are some of the highlights:
In Uganda, Ghana and Vietnam, Cities Alliance-funded consultation, policy and planning initiatives have directly informed and provided direct and indirect support to more than US$500m in planned infrastructure investment from the World Bank.

The Burkina Faso Country Programme was formally launched in November 2013.
In Uganda significant infrastructure projects are preparing to get underway in 14 secondary cities, all with direct support of the Country Programme. 
In Vietnam, the Country Programme has achieved a high level of connectivity and interdependency across the national, city and community layers and among development partners – helping develop the national upgrading strategy that will directly inform a US$272 million World Bank capital and technical assistance investment loan. 
Spearheaded by our African members, the Cities Alliance in 2013 made significant progress in preparing a strategy to guide the partnership's work programme in Africa over the next five to 10 years. 
In October 2013, the Cities Alliance and the United Cities of Local Governments for Africa (UCLGA) launched a critical analysis of the enabling environment for African cities. This critical analysis is the first of its kind in Africa, and will be repeated by the CA and UCLGA. 
In Brazil, the Ministry of Cities passed a groundbreaking policy designed to safeguard the rights of residents who are involuntarily resettled from their homes. The policy was formulated with support from the World Bank and Cities Alliance as part of our ongoing partnership with the Ministry of Cities. 
The Cities Alliance continued its support for the Association of African Planning Schools (AAPS) initiative to reform urban planning education in Africa. This included a partnership between AAPS and SDI, which piloted several innovative urban studios that take students out of the classroom and into the field, resulting in planning that is more responsive to informality. 
In October 2013, the Cities Alliance, Shack/Slum Dwellers International (SDI) and UCLGA signed an agreement to extend the successful Know Your City campaign that promotes grassroots data collection and partnerships between communities and local governments.
Results Management
Over the course of 2013, the Cities Alliance finalised – and began operationalising – a Results Framework to measure the results of its activities and capture their impact in a systematic way.
This process involved collecting baseline data, setting preliminary targets and performance standards, revising relevant monitoring and evaluation tools, and developing a detailed implementation plan. The Consultative Group formally approved the final results chain, indicators and timeline for baseline data collection at its November 2013 meeting in Burkina Faso.
The framework is expected to facilitate the development of the Cities Alliance's first corporate scorecard, which will provide comprehensive information on the partnership's overall performance. It will also better position the partnership to contribute to the Post 2015 sustainable development agenda.
Financials 
The vast majority of Cities Alliance projects approved over the course of the 18 months was in Africa, which also received the lion's share of funding. Of the 19 projects approved, 15 were in Africa; three were global; and one in South Asia.
Cities Alliance Projects Approved 1 July 2012 to 31 Dec 2013, by funding: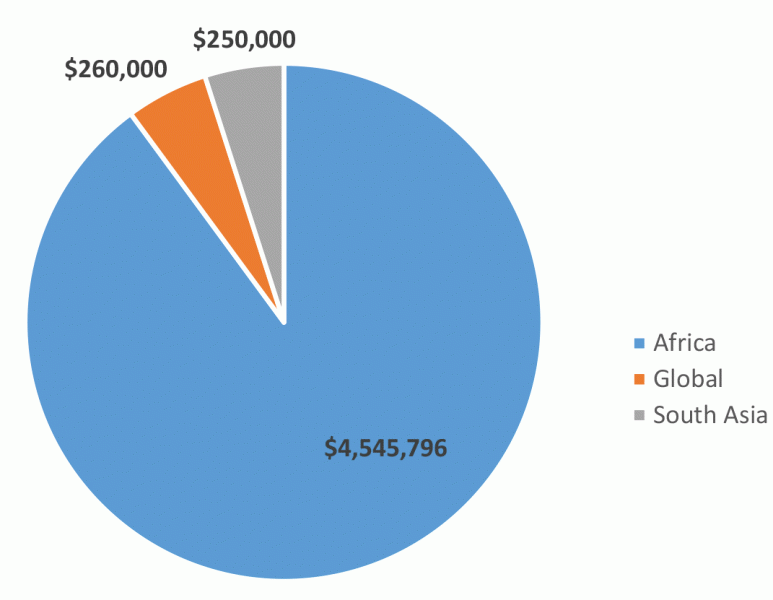 26/03/2014