Lecture Series for Built Environment Professionals in the Commonwealth
Lecture #2 - Planning for Rapid Urbanisation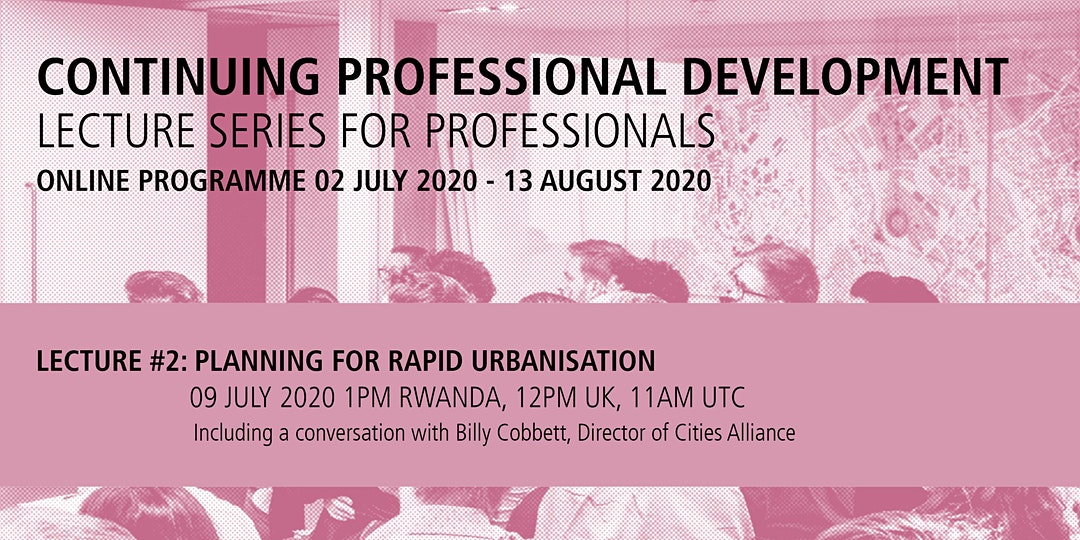 About this event
***Including a conversation with Billy Cobbett, Director of Cities Alliance***
The Commonwealth Association of Architects is pleased to launch a pilot programme of lectures for built environment professionals, the aim of which is to facilitate knowledge exchange between member organisations and member firms, to help promote mutual understanding and greater awareness of issues related to climate change and rapid urbanisation together with the UN 2030 Sustainable Development Goals (SDGs).
While targeted at qualified built environment professionals, it is hoped that this series will be of interest to policymakers, city leaders and students alike.
As the world embarks upon a Decade of Action in which to achieve the UN 2030 Sustainable Development Goals, the Commonwealth Association of Architects has recognised an opportunity to provide mutual support by means of a structured programme of knowledge exchange in the form of a pilot CPD series and, with nearly 50% of the projected increase in the world's urban population to 2050 forecast to be in the Commonwealth, architects and built environment professionals have a critical role to play in helping to achieve a more sustainable future for all.
This webinar is the second lecture in the series and will be delivered by Ben Bolgar, Senior Director of The Prince's Foundation. The CAA's Survey of the Built Environment Professions in the Commonwealth identified a critical lack of professional capacity in many of the Commonwealth countries which are urbanising most rapidly and are among the most vulnerable. Much of this growth is being experienced in secondary cities in which there may be no professional built environment expertise at all. In this lecture, Ben describes a simple four step process which can be used by communities anywhere to help produce a 'bare bones plan' that can be adopted as a guiding framework for future development. Upon conclusion of the lecture, Ben will be joined 'in conversation' by Billy Cobbett, Director of Cities Alliance.
For more information please head to www.commonwealthsustainablecities.org/cpd or contact info@commonwealthsustainablecities.org