World Bank Forum Held on Development and Climate Change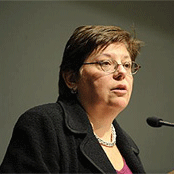 [26 January 2010] -- The World Bank's Sustainable Development Network (SDN) held its annual Forum in Washington, DC 19-21 January 2010.
With over 50 sessions across two weeks, it is the most important learning and knowledge-sharing SDN event of the year.
The theme of this year's Forum is "Act Now, Act Together, Act Differently Going Forward on Climate Action," building on the World Development Report (WDR) 2010, which focuses on Development and Climate Change.
The Forum opened 19 January with an opening address by SDN Vice President Kathy Sierra, followed by three days of lively panels focused on cross-cutting issues related to climate change, including energy access, poverty reduction, and climate action.
In her remarks, Sierra gave an overview of SDN's achievements in 2009, including the launch of a new urban strategy in November and participation at the UN Climate Change Conference in Copenhagen (COP-15) in December. Looking forward, she noted that the Bank is in the process of revamping its strategies for energy and environment, and that climate change is a major strategic thrust for 2010.
The third day of the Forum, 21 January, featured panels devoted to the various sectors that comprise SDN: Agriculture and Rural Development, Energy and Mining, Environment, Social Development, Transport, Urban Development and Water.
One of the highlights was a Mayors' Dialogue hosted by World Bank President Robert Zoellick as part of the Urban Development sector day. The dialogue was a follow-up to the Mayor's Summit held in December 2009 during COP-15 in Copenhagen, where mayors initiated the idea of a task force on urban poverty and climate change was proposed.
Participants included Fauzi Bowo (Governor of Jakarta), Marcelo Ebrard (Mayor of Mexico City), Adam Kimbisa (Mayor of Dar es Salaam), David Miller (Mayor of Toronto and Chair of C40), Elisabete França (Director of the São Paulo municipal housing and urban development agency, or SEHAB) and David Cadman (President of ICLEI).
They all expressed strong support for the task force and suggested that it could help them share knowledge, build capacity and mobilise global resources to fight climate change and urban poverty.
For his part, Zoellick stressed the World Bank's commitment to urban issues as a key aspect of development and noted that work on cities and climate change is a clear priority for the Bank in 2010.
He described the task force as an "excellent idea" and suggested that it could play a valuable role in three areas:
Perform an initial stock-taking on the links between poverty and climate change;

Identify good or best practices to improve shelter and services while reducing emissions and vulnerability; and

Propose investment programmes for the urban poor to scale up good practices.
Zoellick also highlighted the importance of looking at how slum areas can be upgraded from a climate change and development point of view.
During the dialogue, the Mayor Ebrard of Mexico City accepted the chairmanship of the task force. Ebrard will host the COP 16 United Nations Climate Change Conference in Mexico City in December 2010.
As part of the SDN Forum training days, Cities Alliance Senior Slum Upgrading Specialist Julian Baskin will participate in a workshop on "Slums and Land Markets: Getting ahead of the Curve," to be held on 27 January.
26/01/2010